After opening its doors at the Crossroads Collective last February, Discourse is expanding its reach, bringing creative drinks to life at The Cafe inside the Milwaukee Art Museum, 700 N. Art Museum Dr.
The collaboration is part of a five-month residency, which will showcase a Discourse beverage menu ranging from imaginative takes on coffeehouse staples to new experiential beverages like Crenn, an explosive sphere filled with an assortment of coffees, teas and juices.
"We are incredibly honored to work with such a legendary establishment in the community," says Ryan Castelaz, Founder and Creative Director. "The Discourse team and I are proud of the craftsmanship behind our beverages, and we're beyond excited to open a store alongside an organization that shares our dedication to creativity.
The April Discourse drinks menu at the cafe will include:
Moonwater: espresso, honey, ceylon cinnamon, tellicherry black pepper, applewood smoked sea salt

Parisienne: matcha, black tea syrup, blueberry, mango, passion fruit, lime

Channel Orange: espresso, smoky and woody vanilla, orange oleo saccharum, Bittercube Blackstrap Bitters, candied orange powder, black lava salt

Motorhead: Espresso, Pork Fat and Apple Caramel, Chai Concentrate, Bittercube Root Bitters, Apple Powder, Smoked Sea Salt

Flora: espresso, lavender honey, rose water, milk, candied lemon powder, fleur de sel

Beetnik: sous vide coffee, candied pistachio milk, silk chilli honey, orange oleo saccharum, mixed bitters, apple-beetroot powder, edible flowers (drink pictured above)

Crenn "In Bloom": jasmine tea, lemon juice, wildflower honey, lavender, yuzu kosho, honey roasted pistachio, dried sumac
Over the next few months, the Discourse team will also be adding drink offerings inspired by the art on display in the Museum's galleries.
"Being able to tell the stories of the incredible artworks of the Milwaukee Art Museum through drink is the ultimate realization of Discourse's vision for coffee," says Castelaz.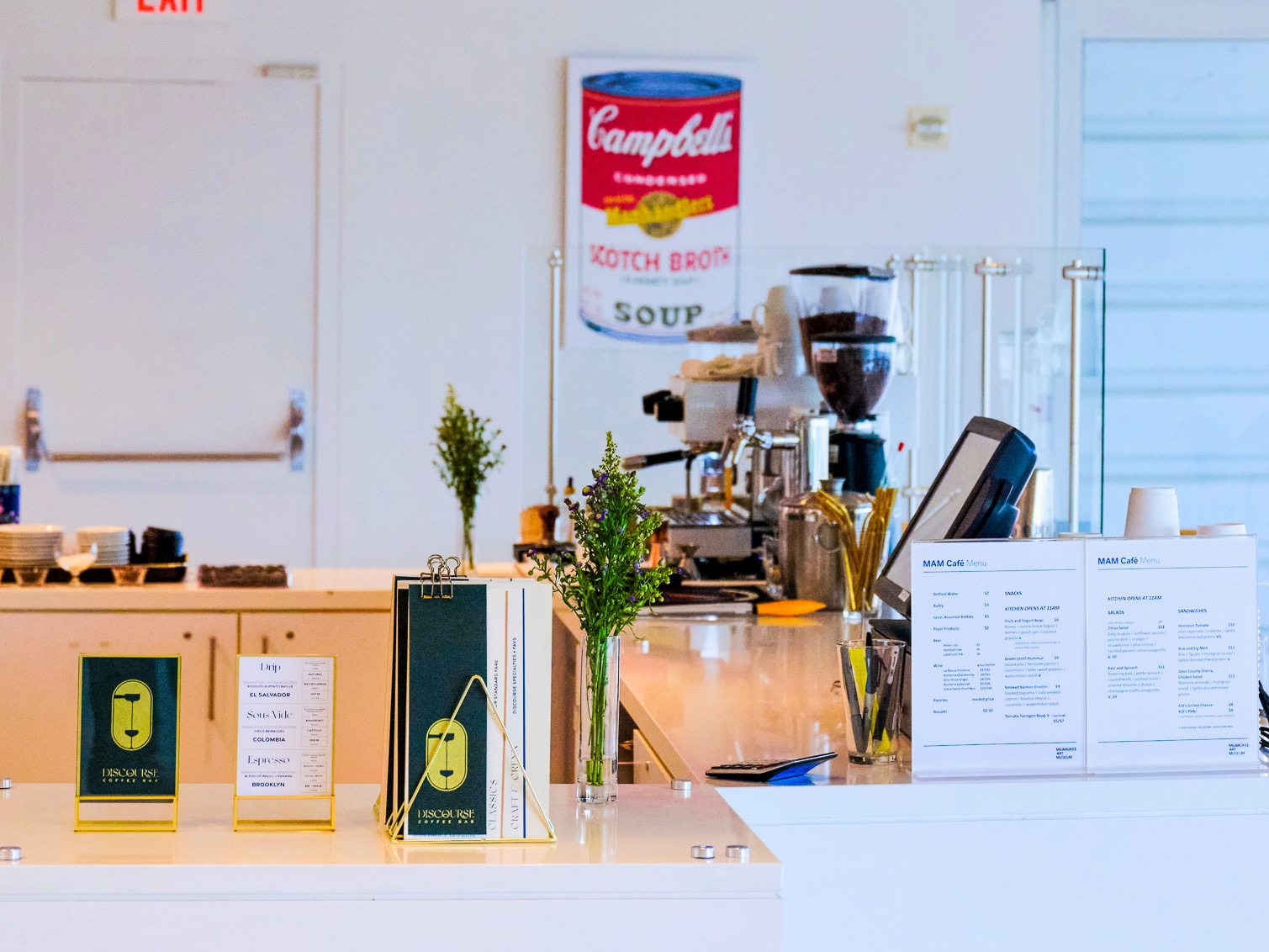 In addition to coffee and tea, the Milwaukee Museum of Art's catering team, led by Executive Chef Jamie Nelson, offers an extensive menu of artful cafe dishes as well as wine, beer and soft drinks. . See the full menu online.
"The Milwaukee Art Museum is thrilled to welcome Discourse: Coffee Workshop to the Museum Café to bring coffee to life in new ways for our visitors," said Robert Stein, Associate Director and Chief Experience Officer of the Milwaukee Art Museum. "Combined with lake views and freshly prepared meals, Discourse's handcrafted creations provide the perfect time to recharge during the workday or after visiting the galleries."
Discourse is open at the Milwaukee Art Museum Tuesdays and Wednesdays from 10 a.m. to 4:30 p.m., Thursdays from 10 a.m. to 7:30 p.m., and Sundays from 10 a.m. to 4:30 p.m. The cafe is open to the public; no museum ticket is required.