STATUTS OF MONOPOLES is the inaugural exhibition of the new Saint George Street Contemporary Art Gallery, the exhibition brings together six contemporary artists who have each spent decades developing iconic individual visual languages, resulting in respective practices as vital as they are immediately recognizable. While each artist's image creation is identifiable within different historical lineages of art (Pictures Generation, Western European Post-Modernism, Neo-Geo, et al.), Each artist has developed their abilities to transcend n any kind of contemporary art and has built a vernacular all to them. STATUTS OF MONOPOLES brings together a painting by each artist dating from 1987 to 2019, with an application of paint varying from screen printing to gestural abstraction – linked like an exhibition by the masterful and distinctive stylistic monopoly of each artist.
With works by: VITTORIO BRODMANN, CAMILLE HENROT, JONATHAN LASKER, JULIA WACHTEL, AMELIE VON WULFFEN & HEIMO ZOBERNIG.
September 30-November 13, 2021 Opening September 30, 6-9 p.m. 12 Saint George Street, First Floor Mayfair, London, W1S 2FB SaintGeorgeStreet.com
Categories
Key words
Author
Marc Westall
Mark Westall is the founder and editor-in-chief of FAD magazine Founder and co-editor of Art of Conversation and founder of the @worldoffad platform
Six shows to see in the heart of the West End, from sculpture to photography.
An art that appreciates the natural world around us.
Sonic Bloom will be a community-driven multisensory installation exploring the nature of communication through the interactive deployment of sound. Organized […]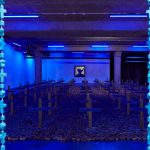 Tabish Khan on @LondonArtCritic picks her best art exhibitions to see. Each comes with a concise review to help you decide […]